Pumps
We display a good range of pumps:
Household, farm, fire, petrol and diesel, transfer, submersible, bore and swimming pool. The DAVEY range is, in our opinion, the best. The last Australian owned and manufactured pump available, you get what you pay for. Two years warranty, backup parts and service, the company have been making pumps for over thirty years, and with the way sales are at the moment, they can expect at least another thirty years. By then they will have developed another more economical way of moving water, but until then, buy the best available.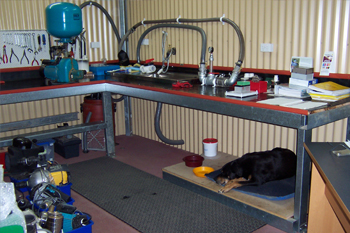 In our American Barn display room / shop, we carry a range of ClayTech, Pentax, Robin, Orange, Onga, and SURflow pumps. All respected quality names. There are many more brands that we sell but do not carry in stock; after all, it's only an American Barn, not Bunning's !
We carry some nineteen different models in home pressure pumps, five farm, seven fire, four transfer, five submersible and six models of swimming pool pumps. If, when you install your new pump and it's not up to your expectations, you may bring it back and we will change it for a larger model. ( prices will vary ) All we ask is that you return it no later than the next day and that it is still in show room condition. Or better still, we can fit the pump for you, then you know it's right. All our work is guaranteed to your satisfaction.
We offer expert advise and can help you size up your new pump. Give us a call or drop in, and we can go through the different questions necessary to fit you up with just the pump to do the job. No fuss, no stress, just polite friendly service.
Spare Parts
We carry a large range of spare parts plus water filtration systems, fire hose and fittings. The amount of parts available for pumps is enormous, naturally we cant carry them all but we do carry quite a few, and same day turn around for repairs is common.
If we haven't got it, we'll get it, if it's available.
Workshop
A well equipped workshop allows us to test, service or repair your pump without the need to send it away, and same day turnaround is quite common.
Our `heavy workshop`, separate again, accommodates the larger pumps such as fire pumps and trailer mounted units. Petrol and diesel engines can be repaired or serviced by our qualified diesel mechanic. Generators, large or small. Ajax piston pumps, windmill pumps, all those hard to work on difficult jobs are no problem. Machining, welding, fabrication of pump parts can be carried out when required. Design and fabrication of fire pump trailer mounted units. If you have a problem relating to the movement of water, let us help you sort it out.
We come to you and do whatever is needed Two field service vehicles allow us to come to you, servicing or replacing pumps on site, as well as small engines, both petrol or diesel.
We are equipped to service bore hole pumps and have a qualified experienced electrician on hand. Farm pumps drawing from a river, creek or dam may be giving you grief, let us sort it out. Household pressure pumps playing up, not turning on, not turning off, coming on and off, running but no water, or making terrible noises?, What ever the problem we can fix it. If we have to take your pump back to our workshop we will fit a loan pump to keep you going.
Give us a call, during hours or after hours, we will do our best to have you up and running again, your pump that is.
FIRE PUMPS
A subject we take very seriously, with so much destruction and devastation having happened over the past few years, we must be ever vigilant.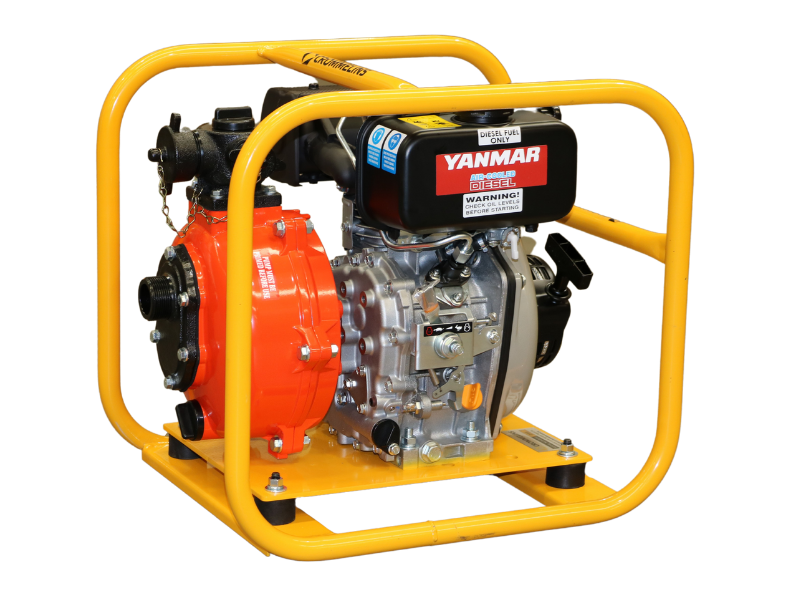 And remember, there's a very good chance that a house fire will start on the inside, never mind the bushfire.
Statistics in America show that three out of four homes burnt in a `wild fire` never even see the fire, embers carried by the heat and the wind set fire to dead leaves, grass or rubbish built up around the house.
So you have to be prepared for anything. Start by cleaning up around your house and buildings, under steps and verandahs, behind sheds and water tanks, anywhere there is flammable material.
Keep a good supply of water on hand, as many tanks as you can justify, believe me, when there's a fire coming over the hill, you'll wish you had more. A dam close to the house or even a swimming pool can be utilized as vital water sources in an emergency.
Next you will need a reliable fire pump, petrol or diesel driven as you can't rely on the power being available. Location of the pump is critical, as I mentioned before, the fire may start inside the house, you need to be able to cover the entire house from two or maybe three positions.
Alexandra Pumps and Tanks can help you size and install your tanks, as well as choose a suitable fire pump, and suitable location for it. We also offer training on the operation of your new fire pump.
We can make up fire hose kits to suit your particular needs, or design and fabricate trailer mounted units.
Our range of fire pumps start with a special light weight unit, suitable for women to use as it is no heavier than a whipper snipper to carry and very easy to start. Then we have the traditional farm fire pump that can be mounted in a frame, making it easier for two people to carry. Last we have the professional unit, delivering excellent performance and suitable for vehicle mounting. There are different models of all the above, so don't leave it too late, call in and let us explain what's available or make an appointment for us to call on you.
ALEXANDRA PUMPS, HELPING YOU FIGHT FIRE ALL THE WAY.
Recommended Links