Tanks
WATER. Without it we will die, the plants will die, the lawn will die. You won't be able to wash the car or take a bath, can you imagine not being able to have a glass of ice cold water? We rely on having water at our disposal and take it completely for granted. You can never have too much water, never have too many tanks, in fact, I heard that one day water will be the most sought after and most fought over commodity on the planet, I only hope I'm not still here to see it.
Tanks are NOT an eyesore, tanks are NOT something to be ashamed of. Tanks are a symbol of wealth, a symbol of responsibility, to show the world that you care about and respect the value of WATER!
Gone are the days when the little rusty gal tank was hidden behind the chook shed, gone are the days when a creeper was grown over the tank as if you were embarrassed to reveal the fact that you dared to collect rainwater.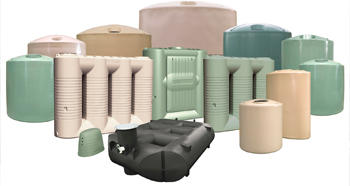 Alexandra Pumps and Tanks can assist you in choosing the right tank for your needs; smooth wall or corrugated, large or small (not too small remember) slimline or underdeck, or even under ground. Be proud of your tanks and let us help you make a statement. We can install the tanks for you if the need be, and of course, help with your pump as well.
If you are an absentee property owner, we can take care of everything for you including sizing, site preparation, delivery, installation and pump requirements.
Unless you were raised on tank water you'll be astounded just how much water you use; normal household use is bad enough, but the garden and lawn can get out of hand, not to mention fire fighting.
So don't put it off, call us now and let us help you, they are only going to get more expensive, not cheaper, if you wait, and tanks a lot for listening to what we had to tell you.